As you can see I don't follow a logical order here and I end up mixing everything, my history, my progress, my rants, it's awesome right? So let's see, how was my experience with the modeling programs? For those who don't remember or didn't read the previous parts, the links are available at the end of this post so be sure to check them out.
     Ok, so I decided to give it a try on two programs first, Blender and Sketchup. So there I go, finding out about Blender, how it's a powerful freeware tool (most likely the most powerful one available for free) and all. Before downloading I decided to find a tutorial to see if it was worth a try and all and after a little research I found tons of tutorials, long ones and I was too lazy to read them all so I decided to simply get the program and give it a try! Good idea? No!
     I got it, installed and I didn't know how to start using. I really wasn't intuitive for me, the controls and all. I couldn't find out how to even create a primitive, it was pretty sad. I, wanting to model my own paper models, couldn't even create a simple square on the program, nice, I was in the right path!
     Needless to say that I gave up the program and decided to give it a shoot with Sketchup. So again I decided to check out for tutorials first to find out about the basics and luckily I found some video tutorials showing the basics and how to. Watching those I got the impression that the program was much easier to use, much more intuitive and all so I downloaded it and decided to stick with that one.
     One or two weeks messing with the program and I was already thinking about what I would model first. Seeing I didn't have much knowledge I decided to stick with something easy and more cubic (without curved shapes) and as I was browsing the internet I found a picture of the Hyrule Castle from SSB64 and I though
"Hey! Why not? This one is basically rectangles and triangles! I CAN do that easily on Sketchup!".
So I decided to model it. And that's how my first model was born...well, almost.
     If my memory is with me, I finished modeling the first version of it in one week but I was still missing the textures so I had to halt the production (lol) to find the textures for the model otherwise it would be a blank castle. After trying to learn how to rip the textures from the game I decided that it could be easier to simply ask for it and that's what I did and guess what? I got'em! A kind anonymous user who was also interested in this model provided me with the textures so I could finish the model. Now with everything I needed all I had to do was apply, unfold and build. Good, easy, fast to do. Yes, it would be if I were not so worried about minor details. Yup, there were some details that was making the model look terrible so after trying to fix only the details I figured it would be much, much easier to simply restart from scratch and that's what I did, but this time I had all the details in my head so I wouldn't make the same mistakes.
     This second time I finished modeling much faster, less than two days. So all I had to do was unfold and build. Easy task, unfolded right away and left there, waiting to be printed. So, there I go, printed it and built it and there were some points to fix on the unfold and also on the model itself before I could release...
BUT! God, the nightmare! My HDD had crashed! Almost everything was lost! The partition which I used for storage got corrupted and I lost almost 100gb of archive. Sad reality, my 3D model, my very first model was there too. God, so sad. I though with myself
"Well, looks like I'll have to rebuilt it AGAIN and I'll have to ask for the texture yet AGAIN...oh, so depressing".
     I don't remember if meanwhile I built other models, I don't think so because I got discouraged by the fact that I had lost all the papercrafts templates I had saved and all.
     Anyway, here are other two models I have also built: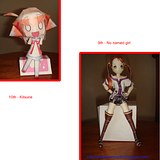 These two got me some headaches. The girl without a name took like two to three days of work and I didn't know how to fit her shirt, it was frustrating but in the end the result wasn't that bad and the little fox girl, oh god, the second nightmare! I glued her body in the wrong way and I had no way to fix that when I noticed so I kept building it that way. Luckily it ended looking like she's sitting (or trying to) so I build that little base for her to "sit" on it but in reality she should be standing. In the end it also ended up looking good though she's too unstable, won't stop still.
     And what happened next? Did I modeled the castle again, for the third time? Was I able to get my hands on the textures again? Find out on the next episode of "My papercrafting history"!
     Yah, this is turning into a soup opera right? We just need some reprise to make it into a real soup opera, therefore I provide you the previous parts!
My papercrafting history part 1
My papercrafting history part 2
My papercrafting history part 4
     Now it's a soup opera :) Well, hope you're enjoying reading this.
Thank you for supporting all this :)
PS: Project IV is almost done, hope to testbuild it soon.