So you already know a little more about the tools you need to start papercrafting right?
But one question remains.
What kind of model can you build?
Basically anything. Within reasons, obviously.
You can find from simple cubic crafts:
to more advanced models: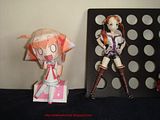 The sky is the limit.
Looks pretty awesome but where can I find some models?
The internet is packed with free models waiting to be built.
Are you a novice and want to simply give it a try?
Check out
Cubeecraft.com
There you'll find a collection of cubic crafts that can be built even without glue. Pretty cool!
You feel more adventurous and want to give a try on something more complex?
Check out the papercraft section from
Canon Creative Pack
. They have a big collection of simply awesome free models. But be warned that their models are quite big.
Do you want one place where you'll find a huge collection of many papercrafts scattered around the internet?
Than check out the
Papercraft Museum
. There you'll find lots and lots of models to download from the most various themes and difficulty.
And here are some of the models I have already built: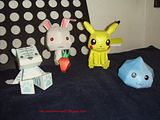 So you have found that awesome car/building/character paper model and you want to build it NOW!
Now, don't haste, ,don't haste.
Make a few considerations first:
-
Are you a newcomer?
If so, try to build an easy model first so you can get hold of the whole process and get used to it. See if it works better with scissors or a x-acto knife. You don't want that awesome model you found to turn out crappy because you couldn't cut it right, right? There are lots of pretty easy yet awesome models out there.
-
Do you have a work place?
Don't try to build it while laid on the bed. Decide where your work place will be and organize it. Clean up the place, get two or more boxes or a plastic bags to use one as trash and the others as a place to keep the already cut pieces (you don't want to reprint a whole page because you lost one piece right?). Lit up the place and be sure you have enough free space to rotate the paper freely.
-
Do you understand the templates?
Before start cutting like mad, see the template and try to understand it. Visualize where each tab should go, try to imagine how that piece should look like in the outcome. Study the template before you cut. After you cut, study the pieces again because now you can move the pieces to have a better visualization.
Well, that's it for now. Will write a part 3 later giving some tips on the building process.
Thank you for reading
Introduction to Papercraft - Part 4
Introduction to Papercraft - Part 3
Introduction to Papercraft - Part 1