Added a the templates in .pdf as requested
     So, here it is! The first papercraft I have ever designed!
     As the title says it's the Hyrule Castle from Super Smash Brothers 64!
     Now to the details.
     I designed this papercraft because I though it would be easy to model and therefore would be a good choice for a beginner like me. I designed it using Google Sketchup (as some may recognize from the screen).
     Now, I think this is a pretty easy model to build, pretty straightforward and all so I didn't even bother writing instructions for it. I would say that this is a good choice for those of you who have already started on the art of papercrafting but aren't confident enough to start building some more complex models. This could be your second or third build without a problem.
     Here are some more screenshots of the model from other angles:

Front view:



Top view:



     And here's the finished model: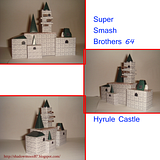 Download link (templates in PNG):
MU
RS
Download link (templates in PDF):
MU
     Some may have seem this already on papercraft museum or on /po/ as I have already released this before but now I'm officially sharing it!
     Have fun and remember to read the "Read Me.txt" available on the rar!
PS: I didn't write a building guide for this because I though it was a pretty straightforward papercraft but if you have any question feel free to leave a comment or send me an e-mail (address on "About me").