Today I'm decided to tell a little about how I got into this hobby which lead me to start this blog. But before doing so, just a fast update. I still have to print the colored templates from Sarah (as I mentioned before I do not own a printer) and after that I'm going to build it and make the instructions so I hope that until the end of the week I'll be able to post it.
     Now let's start my brief history. A long, long time ago, in a galaxy far away something was happening and it has nothing to do with what I'm about to tell. It all started on October of 2008 when I went to a friend's house because it was close to his birthday and at home we were baking a cake for him. Well, fate or not he had just started doing some papercrafts, something that at the time I had never had any interest in but when he showed me the models he had built (the Snake in the Box from Metal Gear Solid and Thwomp from Mario) and he said how fun it was to build and all I got interested in trying it.
     Since long time before that event (maybe 2 years before) I already knew about a site that had a papercraft discussion board but I never had the curiosity to check and see what it was all about and only after that that I decided to take a peek. Long story short I got really into this and decided to give it a shot too. I made some research about what I needed to start, what kind of paper, what kind of glue and all those questions I tried to answer on my
Introduction to Papercraft posts
so I could start.
     After all the hassle of finding out how the materials were called in my country (since I'm not from an english speaking country) and where to buy them and finding a place where I could print in thicker paper I had everything I needed to start. I think it took me two or three weeks from deciding which model I would build first, finding all the materials and actually start building. And obviously all those concerns pop up in my mind. Will it turn out good? Did I choose the right kind of paper? The right kind of model? Do I really know how to use this x-acto? Ah, something interesting to say is that at first I didn't find a cutting mat so I was using an old mousepad as a cutting surface. For me it was an extra worry since I didn't know if that surface was appropriate or if it was going to damage the blade.
     But in the end things went well and my first model was done. Ok, it wasn't perfect, I couldn't attach the head correctly but in the end it looked pretty fine.
     Long story short, I really liked doing it and started building other models. Here are some of the models I built in order: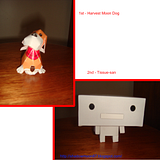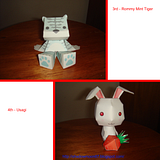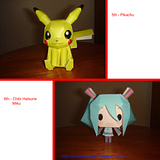 All these were simple models that took me less than 3 hours to completely cut and glue but I had lots of fun building these. It's really a nice feeling to see your efforts bringing results.
      Tomorrow I'll post the second part of this history. Unfortunately I lost most of the templates from the models I have already built because my HDD crashed on January and all the templates I had simply vanished so I really can't provide though I can search if someone is interested in a particular one.
My papercrafting history part 2
My papercrafting history part 3
My papercrafting history part 4
Thank you for reading