It's finally done! Yes! I was able to finish building this and now it's ready to see the vast world! This took quite a time specially because I don't have a printer at home and because of college work.
     Even though I'm pretty dead today I decided to post this before going to sleep so here's it!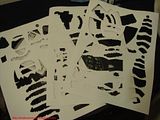 Yes, I do keep these and for some reason I like them. But this is not important now, is it? No! Here's what should be here:
      Now some comments:
      In the end I though that my testbuild looked better in some aspects and the final build in others. Her hand is hard to build and I hope that the instructions I added are enough but if not feel free to leave a message or contact me via e-mail.
      I'm releasing this model in two sizes, one that have 2 pages which ends up in a model that is 18cm high aprox. and another one that have 3 pages and ends up in a 21cm in high aprox. Further information is available on the Read Me.txt on the pack. Do read it please.
      Take a look at the guide before start building and have lots of patience while building this.
      Well, I don't remember of anything else that I should talk here so here's the download link:
Instructions (3,64mb):
Rapidshare
/
Megaupload
Templates (4,05mb):
Rapidshare
/
Megaupload
Have fun building this! And I'm waiting for feedback ok?