I'm almost there! Almost there! I have already printed it and am building it while taking pictures for the instructions. Now I hope this will be done by tomorrow! Finally!
      Want to see how it's turning out? Check it out: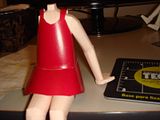 I encountered some problems while building this version. Problems that didn't bother me so much when I was on the test build, I don't know why. So far my impression is that this build will look worse than the test build, I don't know. Well, I'll keep going to see how it turns out but for some reason I really feel like my test build is looking much better, strange.
      I'm also already thinking about my next project though I won't reveal what it is. Actually I have already started to work on it but I may show something about it only after I release the templates for Sarah so I'll just end this topic here. So if you're curious please check back later!
Thank you for reading.