Well, it's Monday, 20:30 local time and I'm dead tired. I am almost sleeping but since I'm here I decided to make a new post here and show how things are going with this project.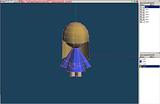 As we can see the modeling process is complete, all I have to do now is finish the texture. Actually I could leave it like that but I will add a texture for the hair and I'll also think if I'm going to add some extra texture to her clothes.
Well, it's all I have to show for now. I already tried to unfold and it didn't present any problem though the real test will be when I try to built it.
Ok, hopefully tomorrow I'll post again as today I'm dead tired and I'm probably going to sleep now.
Thank you for reading.