Ok, it was faster than I expected!
Finished building it today and already made the pack with everything needed to share the model.
There were some parts that were really troublesome to build but overall it was a nice model to build.
For some reason I like to keep the templates paper without the template...like this:
I normally use it to cut into pieces to fill the model and give it some weight.
Now, how did the model turned out?
Check it out right here: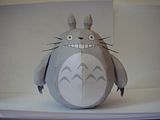 Even though there are some parts that could still use some work the final result was good enough for me.
And why did I decide to do a Totoro papercraft?
First because I really love the movie itself and so this character.
Second because I could only find other two Totoro papercraft and none of them caught my attention enough to make me want to build them. Not that they are bad models, just not my type of model. So I decided to create my own
Third because I though it would be cool to have this duo here: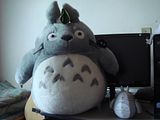 Now that my reasons are explained it's time to give the download link:
RS
MU
Have fun building and be sure to read the Read Me.txt and the building guide!
PS: for those who have no idea what Totoro is, check this site
here
or search for "Totoro" or "My neighbor Totoro" on your favorite search engine.
Thank you for reading