Well, I posted that model that I have already shared with the internet. It was downloaded at least 100 times. It's not much, I know but hey we need to start from somewhere right?
     Anyway, I promise I'll post a better picture of the finished model. The final version! So it won't be different than the ones you'll build.
     Now, another model I have done is a character from a movie that I really liked. I first watched it when I was.... I don't know, maybe 6 years old or something along those lines. Yes, I was really young when I first watched it but I remember I liked it by that time. As time kept going, I grew up, memories faded and later, after I already knew how to think (or at least I believe so) I came in touch with the studio that produced the said movie and ended up watching many other movies made by them, including the one from my memories.

     And after all these years I started modeling and out of nowhere came the idea of modeling this character. Ok, it really wasn't out of nowhere but that is another story.
     This character was kind of easy to model because it really doesn't have many details but it's still a nice model. And who is it?

     Totoro, from Tonari no Totoro, movie by Studio Ghibli!
Here are some screens:

Here's the model in four views with the parts apart.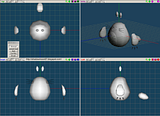 Here's the front view of the model with the parts where they should be.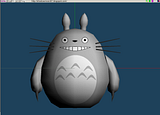 Here's the side view of the model with the parts where they should be.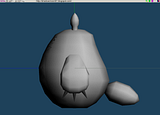 As you can see it's already modeled. Actually it's already unfolded and the template almost ready to be shared. I already test built it and all, changed what had to be changed and there's not much to do left, I just need to build it again to see if the modifications I made are enough to make the model easily buildable.
     So check out later for the download link ok?