Today's post has nothing to do with papercraft.
      Well, today a pack I was waiting arrived! It was a long wait! I have ordered this pack last year and after a few troubles here and there it finally arrived! Yes! :)
      Ok, actually I didn't order this last year...I kind of ordered last year. Better saying, part of this pack I've ordered last year. Yes, it's something like that. But what have arrived? These:
Voices - Music from Final Fantasy
Field of View ~Final Live~
Back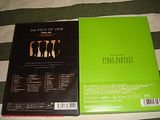 I arrived at home at almost 18:00, found out the package, ate dinner and decided to take a look at these so I think it's easy to guess that I didn't do anything papercraft related :P
       And what do I mean by "ordered part last year"? Well, it's a long short story so I guess I'll tell here. Last December I decided to order the Final Fantasy DVD because I had seem two clips of the DVD on Youtube and got really interested in this and also on the store I bought they're having a promotion in which they were giving card holders for those who bought one of the FF related lists in their list (which included this DVD) so I decided to buy because I wanted the DVD and the card holder looked pretty cool. To also receive a discount coupon I ended up ordering a clock also just to add some extra on the total to be eligible to receive the coupon and asked for the cheapest shipping method (which would be SAL). Long story short the package didn't arrive, unfortunately so I contacted the store and they promptly offered a refund or a resend of the package free of charge. Unfortunately, again, they did not have another clock on their stock so they refunded me the value of the clock and resend the DVD. Since they're already sending me this I decided to also order the Field of View DVD and also asked them to send me through registered air mail so I could at least have a number to search for if the package didn't arrive. Fortunately this time the pack arrived safely.
       It's actually the first time that my order didn't arrive. It was so sad because when they shipped the second package the promotion for the card holder had already ended so I didn't receive it nor the clock that I was looking forward :(
But at least this time the package arrived and I can finally watch these. Today I watched the FF DVD and tomorrow I'll probably watch the Field of View. Or maybe I'll build a papercraft tomorrow, who knows? :)
Thank you for reading.