So, last episode we stopped when my HDD crashed right? Well, that's right, the brand new HDD had a problem and crashed. They sent me another one to replace but they couldn't retrieve all the archives from the old one. Luckily the one which crashed was partitioned and one partition had all my backed up files from some older HDD and on partition had the OS installed. Well, guess what? They could retrieve the files from the partition which had the OS installed but not from the other one. Great hum? Well, it's a fact that all my files were on the archive partition, including my programs and many papercraft templates I had collected but FORTUNATELY! Fortunately Sketchup was installed on the C drive and my first model was there too so within the files recovered this model was there.
     So, in other words I did not have to remake it, just had to modify some parts, some tabs here and there and it was ready to be released! So, one month after I had actually modeled it I was releasing the model to the general public. And after that I decided to keep modeling since it was fun and all that. To keep this already long story short, I decided to model that Totoro right after and had that girl, which ended up being named Sarah, in mind while I was modeling the Totoro. And while I was modeling Sarah I decided to start a blog to make it easier for me to keep promote my models and also this hobby.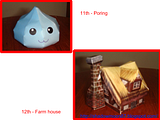 And here you can see my latest builds. Built those for fun only as they took what? Half an hour to built?
     As you guys can see I still haven't built many models. Only 12 models that were not my designs plus 3 of my own models. I'm still an apprentice on this art and the continuation of this history is happening now.
Hope some of my readers gets interested in trying this hobby too. Some may say I'm a genius because I have started modeling after building only 9 or 8 models, others may say I'm nuts for doing so. I don't care. Even though I do believe that it's better to only start designing your models after you've built lots of models from other I decided it would take me too long so I took a shortcut. I did it for myself and if decide to give it a try, do it for the fun, do it for you.
Thank you for reading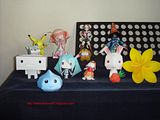 My papercrafting history part 1
My papercrafting history part 2
My papercrafting history part 3