Yes. I decided to finally start testbuilding my fourth model but as the title says, not everything goes smoothly in life. Like I said before, for this colored version I decided to print in an ink jet printer to see how it would turn out, compare the quality and all that. Well, the result is not really interesting.
      As it can be seen, the ink is getting off the paper. It's probably because it's soaked with ink. Well, this gives such an ugly result and also mess the rest of the model.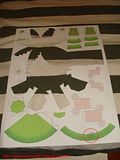 Yes, what gets off from part of the paper can get back to the paper...well, not that many pieces got dirty with the extra ink and that piece circled is not really important but still. I wonder what will happen if I apply glue to it. Will it become an even greater mess? Will it not? I don't know, guess I'll have to find out.
      I think all this made me lose the interest to finish this model. I'm almost trashing this to reprint using a laser jet printer and try again from scratch...but I think that I'll still give it a try to see how it'll turn out.
Guess that's it.
Thank you for reading.