Well, it's already Sunday here (00:09) so it means it's Easter.
      Now to the important part.
      Ok, there's no important part today, again.
      I'm not going to eat a chocolate egg because there's none at home just like I said on my last post) and I also won't buy one in the near future. Maybe next month if I happen to find a sale of it. Otherwise I rather buy some chocolate bar and eat it like that.
      I was also building one model right? Well, here are some pictures of it:
The body is here....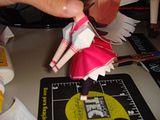 It should stand still but I think it would stay up
      And guess what...it can't stay still! Wow, what a genius I am right?
      Ok, so after that I glues her head and...
      Ta-dah! That's the result. Well, there are some minor details that I didn't add like some wings on her feet, part of her hair that I forgot to glue in the process and if I glue it now it'll look horrible, I also can't find a good place to add her ears (human ears AND cat ears) and I still have to build her hammer. I actually think that the model is looking good enough the way it's right now but I guess I'll at least make her hammer :)
      Later today I will finish my studies and maybe I'll start building another model since I have something around 3 or 4 templates printed that are waiting to be built :P
      And for those who commemorate and care about this, Happy Easter. Don't eat too much chocolate ok? It gives acne! :P
Thank you for reading.
ps: You now realize that "studies" contains "dies"