Is this it?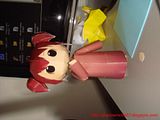 No! something is missing! Extras! Extras! Add extras!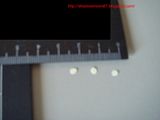 Now, extras, the difference! Hope I won't lose these!
      And after adding ALL the extras (didn't shot every one, I forgot :P) this is what we get!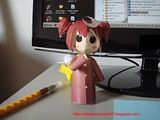 Now, I liked this model but it's a pain in the *** to build it. In other words, I think it's pretty badly modeled. I don't know if I messed up while building it (specially the right "arm of the clothe" that I don't know how to call in english :þ) or if the problem was with the model in itself. I believe that the major problem is in the model so I decided to try to work on the model a little bit more, see what/how I can improve it to make it easier to build before releasing it. I just really wanted to have this built and that's why I struggled to build it but I don't think it's really worth all the trouble unless you're really, REALLY interested.
      I believe I didn't mentioned this before so, yes, this is also one of my own projects. And who is this? This is a Gijinka (擬人化)which is a Japanese word meaning "humanoid", "personification", or "anthropomorphic". It's a Pokemon Gijinka, in other words, a personification of a pokemon. The art I used as base for this model is this one:
      For those who know pokemon, this is Teddiursa, or Himeguma (ヒメグマ) in the japanese version. The picture was taken from
this site
. It has many other pokemon gijinkas available.
      And for comparison purpose:
      Yes, her arms are mirrored, I know. And you can't see the arm that is in front of her face either. The last detail I may try to fix but I'm not going to de-mirror her, I liked it that way. :)
      Now off to change the labels from the other posts :P
Thank you for reading