Well, following the comment
Prinsesa Musang
left in the
previous post
I decided to focus more on just one project right now and that is remodeling the Himeguma Gijinka. This is by far my favorite design so I want to make it as best as I can right now.
     I have pretty much been able to redesign her right sleeve, reduced it to 4 or 5 pieces instead of the previous 8 and I also decided to simplify a lot her body. This because her body is completely covered by her robe so it's pretty senseless to make it with details.
     The body changes were these: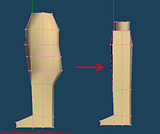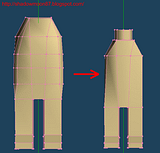 As you can see I removed lots of details and curves from her body, reduced the polygon count (from 74 to 59) but I didn't resize. In the screenshots the latest version seems smaller because it's less zoom.
     The previous version wasn't that hard to build but I still think it's too much effort for something that won't be visible so why not simplify it, right? Now I need to see how stable it'll be with the changes I did. Before the upper part of her body would keep in touch with the upper part of the robe so it's pretty stable to pick her up by the robe but with the redesign her body became slimmer and I believe that this contact between robe/body won't happend so I'm afraid that it'll make it even fragiler. Will find out when I testbuild it...I don't know if I'll be able to do it this week :(
     Now, I noticed that I never told where I am from.
Kenwooi
asked me this question in the previous post and this was not the first time I'm asked it so I decided to answer in this post.
     I'm from Brazil, that big country from South America which official language is Portuguese not English nor Spanish so excuse my grotesque mistakes (grammatical, vocabulary, etc) I may commit.  
     Well, that's it.
Thank you for reading.