...and now is the time of the semester that I'm most packed. Just more this and the next week and my classes are over for the semester but I have yet two presentations to prepare and present and two tests to do. This is completely depressing me specially because I'm not in the mood to do anything but I still have lots of things to do. Therefore I don't do the things I should do and I'm also unable to do what I want to do because my conscious keeps telling me that I shouldn't be doing this and all that, ya know.
    Concluding, my paperworks are halted since the pc was sent to the assistance and I should be resuming my work after all my classes are over. And since my models are halted this blog is also semi-halted because, well, this blog is mainly about paper models :P (though it's been a long time since I last posted about it). Also I'm having a hard time to keep following the blogs I normally follow but I'm still there reading the new posts whenever I can. When I say "it's been hard to keep following" I mean that I'm not visiting the blogs on a daily basis but I'm still visiting at least twice or thrice a week.
     Anyway, here's the current status of my last build: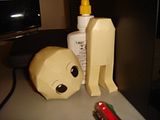 Yes, hopefully this one will be resumed in two weeks :)
Thank you for reading.