Good god...June is over and it was a horrible month for this blog, only four entries. And what's almost finished? One of my project? Another new design? A new template? No! My classes and the semester! Almost there, almost there! Only more two days of suffering and agony. Yes, I don't even know if I want these two days to end soon because I have one presentation tomorrow and another on Friday and I don't feel confident to do any of those. The worst is that I still have to prepare the one for Friday....oh I'm so screwed. Anyway, it's been quite a while since I last posted and it's been quite a while since I last checked the blogs I follow so I decided to take some time to do both today. Since it's been quite a while I think this will be a long post. Feel free to ignore it since this won't add anything to your life (probably, just like all the other posts tagged with "etc").
     So, what happened since I last posted? Well, MJ died and his stuff are selling like oxigen would sell because of that. He's selling more than John Lennon and Elvis did after they died, or should I say that people are buying more? This is probably the most correct term. Anyway, he died, a genius as a dancer and as a musician. What else could I say? Not much but coincidentely a few days before his death I found out this article
here
that tries to give and explanation about why some celebrities stay famous regardless of their talend. It basically says that people need something to talk about, something in common and these celebrities is their point of equicity. In a few words that's what it's explaining and I think it makes sense.
     What else could I talk about? Well, I sold my drums last weekend and bought a bass! Nice! No, I don't know how to play it yet but I'm learning and I'm eagerly waiting for these long awaited vacations so I can practice. So yes, I'll have to conciliate the desire to learn bass and the desire to build new models, will be a though time for sure. And here's the space for pictures, yes!
     Here's what I sold:
     And here's what I bought: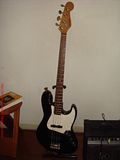 Pretty nice, I already have lots to do during my vacations that hopefully will start Saturday.
     And that's it I guess...one last thing is that it's damn hard to type without using one finger. Yes, yesterday I decided that I would try to eat some barbecue of myself but I stopped when I remembered that it would hurt a little if I were to cut off my finger, unfortunately this just came to my mind after I started chopping off my finger. This was nice for sure. Ok, it wasn't that bad, just the tip of my finger got cut but for some strange reason that's exactly the place were it seems that blood is produced because it simply doesn't stops bleeding. I cut it yesterday but today was still bleeding. Oh well, nothing that a curative won't solve. Ok, that's it. In the end this post didn't get as long as I thought it would.
If you had patience and interest to read till here, thank you for reading