Well, it's been a quite time since I last posted right? Yes. And why am I posting now? Did something good happened? Did I finish something and am ready to share? Am I just wasting your time?
     If your guess is the last one than I would say that you're most likely correct though I'll try to prove it wrong (will I be able to?).
     Anyway, this past week was completely useless to my hobbies. Progressed almost nothing with papercrafts but my time was not completely wasted since I spent some time messing with the bass. Not much but enough to learn how to play one or two songs. Now am up to learning how to do slaps correctly. But since this should be mainly a papercraft related blog I decided to set a goal. I'll finish the Gijinka model until next Thursday, July 23rd. I'll make one week be enough for me to finish recording one music, cleaning the mess in my room and complete the paper model.
     Just for you guys to have an idea on how my room is right now here are two pics of part of the room and the pc desk, where I normally use as working place for papercrafting: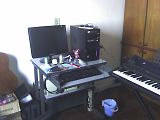 Crappy resolution because I don't know where the camera is...I guess somebody from my family took it, I don't know, so I'm using my cellphone's camera that is clearly worse.
     The keyboard should go back to it's former place in my room as soon as either I record it directly to the pc or I decide that it's not a good choice to do this. Well, let's see how my progress goes this week right?
Thank you for reading.